MultiTab 6000 REVIEW
Please note I'm currently working on the new site. I didn't want to take the site offline though, so you can still visit it. However me working on the site while it's still online means a lot of the pages will appear wonky. But not to worry, it won't take too long.

Monday, July 2, 2012 - 23:25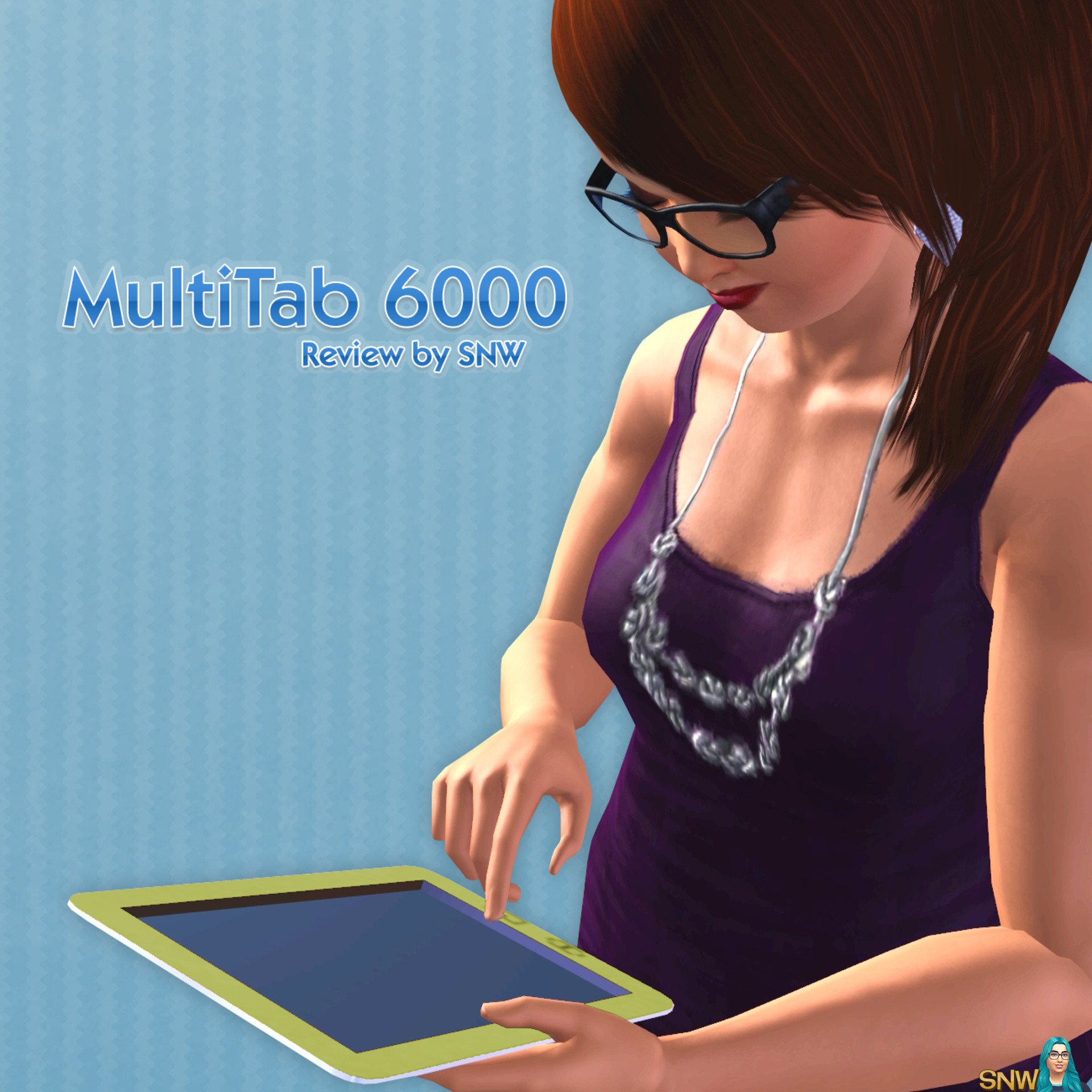 Oh hello all! Another review? They just keep on coming hey? Well I don't hear anyone complaining so… I'll just continue to do what I'm good at haha. This time I'm going to tell about and show the MultiTab 6000. Curious? Well then, continue to read!

---
The MultiTab 6000 is a tablet device! It can be used by every age group except babies/toddlers. So kids can use it too! It has a number of interactions, mostly book and skill related.
Young adult, adult and elder Sims can do the following:
Read Book on MultiTab 6000
Shop Online for Books
Listen to Tabcast
Play Online Social Game
Teens can do the following:
Read Book on MultiTab 6000
Shop Online for Books
Listen to Tabcast
Play Online Social Game
Do Homework
Kids can do the following:
Read Book on MultiTab 6000
Listen to Tabcast
Play Online Social Game
Do Homework
We'll start with Read Book on MultiTab 6000. This option enables your Sims to read any book they have in their household. This includes novels, skill books and recipes.
You can see your Sim's progress in the inventory, by hovering the MultiTab with your mouse.
Then there's Shop Online for Books. This cannot be done by children, but teens and up can buy books using the MultiTab. It works the same as when your Sims go to a bookstore. You'll get the same menu and all that. When you buy a book this way, you can still read the physical copy. You don't have to read it on the MultiTab, but you can.
One awesome new feature is Listen to Tabcast. A Tabcast is like an audio file allowing your Sims to skill by listening to it. Basically, it's a podcast, but I think I'm not really allowed to say this, because podcasts are linked to Apple in the real world.
Here are the Tabcasts your Sim can choose to listen to:
Charisma Tabcast - "No, YOU the Man!"
Cooking Tabcast - "Foodtastic"
Fishing Tabcast - "Angler's Alley"
Gardening Tabcast - "Make it Grow"
Guitar Tabcast - "Riffs, Picks, and Chords"
Handiness Tabcast - "Tool Talk"
Logic Tabcast - "The Emotion Free Zone"
Writing Tabcast - "Wright's Writes Rights Rites"
If you have The Sims 3 World Adventures, you will also have the choice to listen to a Photography and a Nectar Making Tabcast.
When listening to a Tabcast, your Sim will grab the MultiTab, plug in a wireless bluetooth like headset, put away the MultiTab and the listening/skilling begins. The amazing thing here is, that your Sim can do something else at the same time! So they can go for a run while listening to the Tabcast. But they can also choose to skill. But that can't be done, right, because the Sim would be skilling already by listening to the Tabcast? Well, your Sims can now skill two things at the same time by using the MultiTab! Isn't that awesome?! I think it's wonderful.
When a Sim is listening to a Tabcast, you can hear it in the background:
Rosie is listening to a Tabcast, while preparing a meal. So she is skilling two things at once:
Tired of listening to the Tabcast? Click the MultiTab in your Sim's inventory and choose Stop Listening to Tabcast, or just click your Sim for this option.
The Play Online Social Game choice allows all of your Sims to play a game on their MultiTab. A game that looks an awful lot like The Sims Social.

An option only available to kids and teens is Do Homework. This is just brilliant. I compared some of my Sims in the same household by letting them do homework at the same time. One Sim did it the old fashioned way, and the other Sim used the MultiTab. The beauty of the MultiTab is that kids and teens finish their homework quicker. And they get fun too. Instead of losing fun drastically like is the case with the old fashioned way of doing homework. The only thing I was sad about, was that Sim kids and teens were unable to choose to do their homework together through the MultiTab, nor could they ask for help from their parents. But that's okay. Because it's done pretty quickly anyway so.
When listening to a Tabcast, your Sim will receive a special moodlet for this:
Technophobe Sims should NOT use the MultiTab, obviously. I tried it with one of my Technophobe Sims and she went absolutely nuts haha.
Like with most items in The Sims 3, you can change the looks of the MultiTab by using Create a Style.
I always try to be honest in my reviews and I have a few things I need to say about the MultiTab. I absolutely love the device. Before I installed it into my game, I was a bit skeptical "What use is a tablet for my Sims", but I was wrong to think this way, because it's an awesome addition. However, I do think there are some things missing that really should have been there. Things like chatting, interactions between Sims who own MultiTabs, taking pictures (Sims can take pictures with their mobile phones, why not with the tablets as well) and finally I really don't get why grocery shopping hasn't been added as an option. I mean, if you're going to let your Sims be lazy and order books on the tablet, it would make sense to let them order other things as well, right? But that's just my opinion. It doesn't change the fact that it's great for skilling and homework. Sims have FUN with this object.
Special thanks to EA for letting me review the MultiTab 6000. My Sims sure had fun with this device. And I think this is the first item most of my Sims will actually own. My Sims love reading and skilling so… And how about you? Do you like the review? Do you like the MultiTab 6000? Are you going to buy this? Let us know! Download the MultiTab 6000 at The Sims 3 Store!